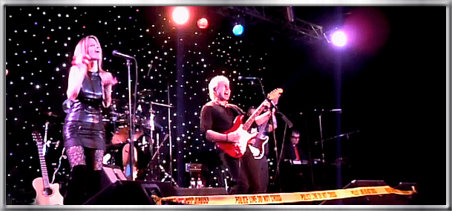 The members of Ghost In The Machine have been playing together for eight years. Four years ago they decided to build their Police and Sting repertoire into a complete Police/Sting tribute show. The difference and edge for Ghost In The Machine is that as a musical tribute, with a full line-up, they are able to reproduce Sting's recordings and live shows more accurately than the typical tribute which sticks to the 3 piece complement of the original Police.  And of course,  lead singer Michael Bradley sounds just like Sting. Ghost In The Machine performs all the popular Police hits, as well as many of Sting's more recent hits, which results in a show that appeals to a very wide age group.  Ghost In The Machine has performed all over Southern California and Arizona, including the Starlight Bowl, House of Blues, the 4th and B Arena in San Diego and various venues in Arizona.
---
Read Our Bios
MICHAEL BRADLEY

LEAD VOCALS /  GUITAR

Michael Bradley is best known to anime fans as one of the composer/songwriters of the groundbreaking 80's animated television series, Robotech...as well as the singing voice of the character Lancer/Yellow Dancer. Although mainly known in the music industry as a gold and platinum record award-winning songwriter, he has also gained acclaim as a singer, record producer, composer, guitarist and keyboard player.

Michael was formerly a lead singer of the nationally famous rock & roll band, Paul Revere and the Raiders and he was also guitarist for Las Vegas headliner, Lola Falana.

Over the years, Michael has appeared onstage as opening act or co-headliner with such well known artists as Joe Cocker, Boz Scaggs, Wild Cherry, The Beach Boys, The Association, Wolfman Jack,  Gary Lewis and the Playboys, Spencer Davis Group, Mitch Ryder and the Detroit Wheels, Average White Band, Jan and Dean, The Dixie Dreggs,  and many others.         

Michael's music has been featured on many network and syndicated television series including Fame, Robotech, Northern Exposure, MTV's Parental Control, Good Morning America, P.M. Magazine, Eye On Hollywood, and Friday Night Videos.

Due to his popularity from his work with the Robotech television series, Michael has performed as a solo act at anime conventions in many cities in the US and South America. 

RACHEL SCOTT

LEAD VOCALS

Growing up in a show business family... whose mother wrote songs recorded by legendary musical icons such as Michael Jackson and Smokey Robinson, Rachel Scott has established herself as a solid, captivating vocalist and songwriter.

Besides being featured in the Eminem video, Cleaning Out My Closet, Rachel has showcased her talents in some of the most popular venues in the L. A. club scene, such as The Whiskey, The Cat Club, The Mint as well as performing at B.M.I. showcases at Genghis Cohen.

Although an established recording session

vocalist, Rachel is currently concentrating on live performance and has most recently been a featured performer for the past two years at the annual SCRC Convention at the Anaheim Convention Center, singing in front of more than 10,000 people.

 






 

PAT WILKINS

BASS GUITAR /  VOCALS

Originally from France, bass guitarist Pat Wilkins developed his musical expertise in Washington D.C., where he recorded his first record with the progressive rock band, Handelscamp. The band opened for national acts touring through the area.

Before moving to California, Pat also played for the band Spats, which featured Mike Zack (of Nils Lofgrin/Bruce Springsteen's E Street Band fame).

Pat has performed in various bands at many of the top music clubs in the Los Angeles/Hollywood area, including The Roxy and The Troubadour.  His list of bands include The Convertibles, Scarlett, .45 and Appliance which was produced by David Garfield of Toto.
 
In 1984 Pat opened up Wilkins Guitars and this business has become a significant business in the musical instrument industry.

Pat has continued to play live and record with many artists and bands in the Los Angeles area, most notably with Omalgala Records' recording artists, The Psychedelic Vaqueros.

 


 

RICHIE SHAPIRO

DRUMS



"Richie Rich" has played since he was 11.  He was a member of the 80's hair metal band City Lights.  The band had a recording contract and toured extensively with various major rock acts.  Richie throughout the years has played at such Los Angeles venues as the Whiskey a Go-Go and the Roxy on the Sunset Strip and at the Hollywood Bowl. He has also done studio work with other artists and played on TV commercial soundtracks.